Color Correction with Confidence
From consultation to aftercare
Color Correction with Confidence Includes:
2
Hours
,

27

Minutes of Video
Lifetime Access
24

Reviews
Color Correction with Confidence
In this in-depth corrective color course, Cassandra McGlaughlin (@cassandraplatinum) tackles some of the most pressing questions facing new and seasoned stylists alike. Join Cassandra on a journey of a successful Color Correction to take your color business to the next level.
You Will Learn How To:
Part 1: Before the Transformation: Consult, Schedule and Price
Strategize the service and ask the right questions of prospective clients
Set up proper guest expectations and stay in control of the transformation
Implement scheduling strategies to ensure the right amount of time for each color correction.
Price your services with confidence
Grow your color correction clientele using social media
Part 2: Complete the Transformation: Lighten, Treat, Tone and Aftercare
Become advanced in color theory, chemistry and technique
Implement essential color removal and lightening methods
Create in-depth corrective toning formulation and applications
Treat hair throughout the service for healthy, long-lasting results
Prescribe the right aftercare to maintain results
Instructor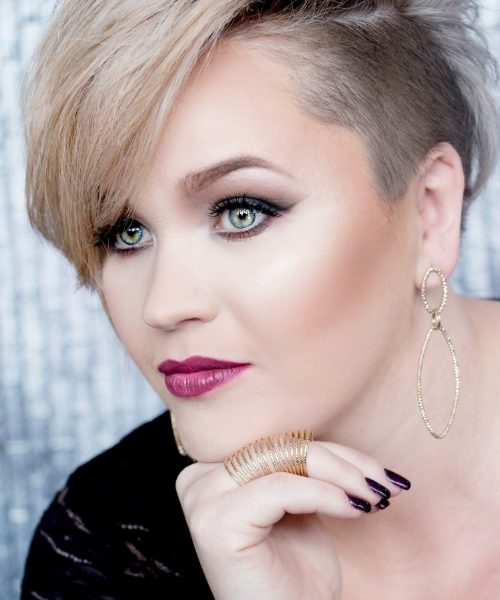 Cassandra McGlaughlin

View All Courses
Cassandra McGlaughlin (@cassandraplatinum) is an award-winning correction specialist who has mastered the art of the transformation. She brings together technical skill, in-depth color theory and artistic color placement to create a modern take on classic hair.
While her knowledge is in depth, Cassandra keeps her approaches to hair color and salon business simple. Her passion for keeping techniques deeply rooted in salon reality combined with her skills as an educator have made one of the most requested color educators in the U.S.
24 Reviews for Color Correction with Confidence
"Great class but I would have liked to see actual demos and less of the students chiming in."
— SOL L.
"Great to know alot but would like to see hands on too. Thank you ◡̈"
— VIVIAN K.
"Amazing color knowledge! Definitely got my money's worth and more! I learned some new tips and tricks and was brought back to the basic hair theory to help better understand what methods are needed in that particular hair situation. I'm ready to take this back to the salon and slay some hair!"
— SAMANTHA M.
"Love all the info, definitely would love to pick her brain some more... so perhaps in future, I'll find another class with her!"
— VICKY G.
"Great information. Many Ah-HA! moments. Well worth the cost for this class. I would love to know what brand of color remover she uses."
— LINDA T.
"Great information but I was expecting more hands on and formulation !"
— AMéRICA A.
"Great information, but I would have really preferred more pictures and step by step. Ugh!"
— APRIL W.
"I really enjoyed and learned a lot with this class but I would have liked to see demos. It would have been extremely helpful but overall, it was an excellent class."
— ANA G.
"This was a great class to help understand where to start and the steps to take to correct a clients hair. I work independantly so the more education I have in my tool kit, the easier it is to take on these challenges!"
— JUDY K.
"I enjoyed this course with Cassandra and her depth of knowledge. I feel this information will greatly benefit me throughout my career and is something I come back to often to reference. I do wish there was an application component as I am a visual learner. However I still felt it was very beneficial!"
— HOLLY H.
"Amazing class! Cassandra is so knowledgable and is a really good instructor. She provided some really great a-ha moments for my entire staff!"
— ROSS N.
"Great breakdown overall about how to approach a color correction. I have been doing color for 20 years and still felt this was valuable. It is an exceptional amount of info especially for the price. If you are struggling with corrections this would definitely benefit you."
— SONIA R.
"I enjoyed this course just wished there were videos to demonstrate the processes as well"
— MARIBEL O.
"Cassandra is a really great educator and knows her stuff. Was a good class on how to run your color correction business when it comes to waivers, how to set expectations, pricing/blocking out time and some general game-planning advice. Would only be improved by more step by step photos or model demonstrations -- but perhaps with color correction, everything is situation dependent it's hard to make helpful step by step guides or show models?"
— LANA B.
"I would love to see real models or more pictures and show us step by step"
— ANA P.
"I really liked this class. Her information was very valuable as I do love a good color correction!"
— LEZLIE M.
"This was Excellent class!! Learned a lot! Pact with great information that I can keep going back as often I needed too! Thank you for creating this and look forward for more! :) Kim"
— KIM J.
"Great course on color correction with lots of valuable information. I really enjoyed it. I only wish that it would have went a little more in depth about correcting with color to even out levels."
— JUSTINA Z.
"each time she shows the actual pictures of what she is doing the video puts up the formula so I cannot view the pictures...other then that Im very happy with it....lots of info"
— KATHLEEN B.
"the class was awesome"
— MAVIS P.
"It was great information. I just wish she had models and show us step by step everything she told in the class."
— ANA P.
"A wealth of information, Cassandra is excellent, content invaluable! Thank you!"
— HECTOR Q.
"It was a general overall class. I'd like to see a start to finish on how she determined the formulas for the different hair colors in the hair."
— JILL A.
"Fabulous delivery by Cassandra. Her breakdown was thorough and understandable...this is information that I can implement immediately in my salon services....awesome...thank you!"
— JOANNE T.