Dimensional Blonding
USD $59
Dimensional Blonding Includes:
5
Hours
,

09

Minutes of Video
Lifetime Access
1,345
Pros Own This Course
36

Reviews
Includes the following 3 looks:
Dimensional Blonding
Dimensional blonding taken to new heights.
In this workshop, you will learn three contemporary blonding techniques and dozens of important lessons that will help elevate your color game. The techniques can be combined to control dimension and create healthy customized end results.
You will learn:
How and when to "cleanse."
How to use versatile seamless blonding for a beachy blonde look or as a pre-lightened canvas for creative work.
Quick and simple ways to achieve a shadow root.
Backcombing – to create a perfect blended dimension through the mid and ends.
How tipping can help you achieve the lightest blondes.
Formulating and applying the perfect toner/glaze.
This course includes three looks:
Quick Cleanse
The quick cleanse is a fast and efficient way to lift out previous color from hair while leaving a perfect dimensional depth at the root! It can also be used for stunning effects on virgin hair.
Seamless Blonding
Learn "tipping" – an important form of backcombed color application. Tipping allows for seamless transitions in tone from root to end. Two variations will be taught to help you customize your seamless blonding from a whisper to a shout. This technique also incorporates foils.
Shadow Root
A meticulous application of color that produces an organic and highly customizable Shadow Root. By varying the depth of your application from section to section you can customized this highly on trend look.
Instructor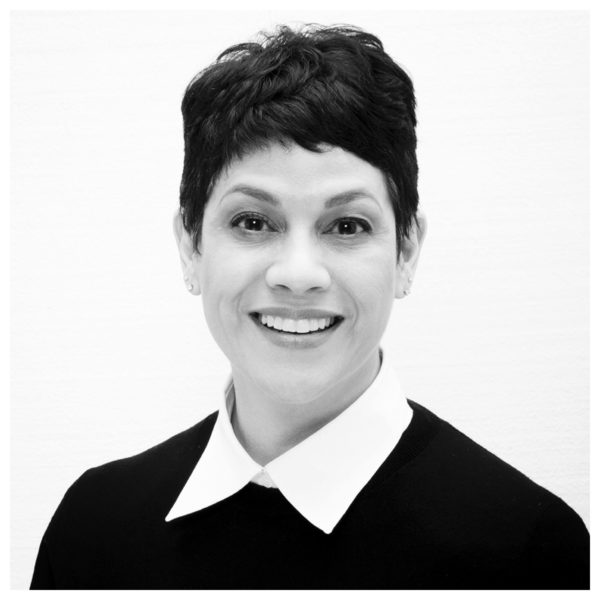 Lupe Voss
Lupe Voss' enthusiasm and unparalleled technical abilities are responsible for her successful rise as one of the most sought-after hair color educators in the world today.
The owner of the successful Julian August Salon, Lupe is also a leading Aveda Advanced Academy educator. She is founder of Hair Color Magic, a traveling color academy specializing in workshops on creative placement and the art of formulation for customized color.
Lupe is renowned for her technical acumen and "real-life", authentic teaching style. She has a passion for learning and a heartfelt desire to make education fun and effective.
Recommended Tools
Pivot Point Erika Mannequin
12 metal clips
1 butterfly clip (to hold towel to trolly)
Teasing comb
Your favorite gloves
Blow dryer
Flat brush
36 Reviews for Dimensional Blonding
"Lupe never fails to amaze me with her techniques and this class is no exception. I especially love the way the class was filmed, showing the theory, practical demo and hands on with the students. Great job hairbrained and Lupe!!!!"
— RJ V.
"One of the things I love about this class is the amount of detail that goes into making sure there is clear and concise communication applying these techniques to work done in the salon. Great work!!!!!!"
— GEORGE L.
"Lupe Voss always presents the class with great content. Easy to understand and informative. The filming was first class and presenting it live gave a feeling of being there and the questions asked helped. I love that you can learn anytime anywhere."
— MARIA W.
"Thank you Lupe for such a great course! You are an absolutely amazing instructor & love learning from you! I shared every bit of this information with my team as well!"
— HELEN T.
"Lupe is such a great educator! I was eager to try these techniques on my mannequin ASAP."
— VICTORIA C.
"Lupe is one of the best instructors out there, this course is a solid investment and would highly recommend it!"
— ROBERTO R.
"Lupe Voss is an excellent teacher. She does such a great job explaining how and why for every technique. She also teaches what not to do. I've enjoyed watching her tutorials multiple times and learn something new every time. I've been licensed since 2005 and am blown away by how much I learned in this class. You will not regret purchasing 😍"
— ELIZABETH M.
"This format is in incredibly beneficial. The hands on portion allows Lupe to go into more detail regarding the technique. This also provides additional clarity as the stylists are implementing the steps on their mannequins."
— NICOLE S.
"It's really easy to get in a rut or think we have it "figured out." These courses (and I have purchased at least 3) are worth evwry penny! athis one took my blonding to the next level. That combibg technique for shadow root? FLAWLESS gorgeousness. My clients actually tell me I don't charge enough. Ha! Their hair looks SO expensive and, really, that is what they want. Everyone is a Kardashian, I guess. Kove her teachibg style. Love the tios and love you guys for making me THAT much better at what I love. THANK YOU! XOXOXO"
— LINDA T.
"Lupe is amazing!!! Great workshop. Was a little skeptical at first. I'm more of a hands On show me watch but this definitely blew my mind. love that I can reviewing it as needed."
— VERONICA N.
"This class was fantastic!! Lupe explains everything so well!!"
— HELEN T.
"I did not expect this class to be this good. I learned so much and learning like this is definitely the future."
— GARETH H.
"Great tips, greetings from Finland to you all!"
— HARRI P.
"I'm more than happy with this. Awesome class!"
— SAMARDZIJA Z.
"Awesome class!"
— JOSEPH T.
"This class was so amazing. What I love most is being able to come back and review. The cleaning was so helpful and I have already used it behind the chair. Lupe is an amazing presence and make following so easy. I'm more than happy with this. Hoping for more classes in the future. Love you Lupe your the best!!! Stefph K Charles Salons San Antonio Texas"
— STEFPHANIE M.
"I liked this technique, its something to start before fou go into your color or toner choices. Also to customize a haircut to the dimension. I can't wait to see more I bought the class series."
— ISRAEL G.
"We are a small Uk based salon. We have totally adopted some of these fantastic techniques. We live for a Cleanse and the Shadow Root is just awesome. Shame we can't post pix of the results 😫"
— IAIN M.
"Amazing teacher!! I have tried some of her techniques already. The shadow root techniques is a quick way to add color."
— ANA P.
"Loved the dimensional blonding classes! The material is so relevant to TODAY that I literally used it on every client today. Great format, great content, great educators!"
— CARISSA L.
"Thank you so much for providing such a great education that keeps hairdressers motivated and inspired ! Lupe is an amazing teacher ! Thank you again <3"
— CRISTINA L.
"So cool! At first, I was skeptical, but what great instruction! I lrarn the best stuff fron this site. I know this word is over-used to death, but...AMAZING!"
— LINDA T.
"What a helpful class. Lupe is such a clear, articulate teacher and SO INFORMATIVE. She had so many small but meaningful tweaks to the type of work we do in the salon everyday. I really enjoyed the hands-on portion being shown because you were able to see any possible confusion you yourself might have run into once you attempted these techniques and it really solidified the information and application for each look. I HIGHLY recommend this color class for all skill levels -- you will definitely walk away with some great new information and skills."
— LANA B.
"Amazing class! So many great tips to incorporate on our daily basis! Can wait for the other classes!"
— GABRIEL M.
"THANK YOU! From Australia ... I also have been hairdressing 36 years and very passionate to keep learning.. I have implicated these techniques into my salon and getting great returns.. Look forward to learning more from HB live ❤️"
— CHERYL B.
"Having been a color educator with Wella, I really wanted to find something new that I could share with my team to keep driving my salon forward. To be blunt, I have been very unimpressed with so much education lately, especially with all the instafamous people that claim to be educators, and even with a lot of educational offerings by a few color companies. My salon is an Arrojo ambassador salon so I have seen Gerard in action regularly and I suppose that I have higher expectations for what I believe education should be. I knew that Hairbrained would have to at least be of the caliber of Gerard and his standards, and the class was offered at such a reasonable price that I couldn't resist. Lupe did not disappoint! She is a master at not only her technique, but also in conveying them to the students. It may be advertised as 3 techniques, but she gives constant tips, aha moments, and tidbits to take everything to a higher level. The simplicity of her Shadow Root is genius, but she has a true technique to it. There's also a reasoning behind every stroke of the brush, every tool in her belt, every clip, and even her setup for her color cart! Regardless of your experience, expertise, or education level, you will learn how to take your work to great heights! Well done!"
— ROBIN D.
"Amazing educator who throughly explains each step by step that helps embed knowledge to her audience...love hairbrained education!"
— JOANNE L.
"Lots of great info, some I can't picture using in my salon, some I can't believe I lived without! I'll be using the seamless blonding and shadow roots daily! I wish there was a pdf for each course with diagrams and formulas to refer back to"
— STEVEN D.
"The style of this class was so immersive! Lupe is a phenomenal educator and explains things in such an easily understandable way. In the demo, you get a clear picture of what she is teaching you, and then in the workshop portion, you get to see her correct techniques and give guidance to 2-4 stylists. This part was so beneficial! Things that you may get wrong at first, she addresses with each stylist as it comes up. You will not be disappointed with this class, I took her tips immediately to the salon the next day! ❤"
— AMBER H.
"Actually I was extremely impressed. I luved it. What a great educator ❤️❤️❤️ Clear, precise explanations, awesome tutorial! Would highly recommend this segment 😘. Thankyou"
— SHARON C.
"Wow!First time for me that an online class felt like a real class!"
— SCOT C.
"Absolutely amazing! Lupe is so easy to understand and follow. Her work is exceptional and I look forward to many more of these classes. ❤️"
— DARCIE B.
"It was an amazing event. She, Lupe Voss.... was the best instructor...I have experienced since my days with RedKen. She delivered the clearest communication on a subject that is so based on an individual perception, as an artist. Neither the less, she gave strong parameters to work with, and to create from. BRAVO"
— PAULA S.
"I absolutely love the whole class and workshop. It was so informative and you truly felt part of it, since it was a live!!!"
— SELINES S.
"The future in eduction .. hbrained u have done it .."
— SHAWN H.