Innovative Cutting
A fresh approach to three timeless cuts
Innovative Cutting Includes:
6
Hours
,

48

Minutes of Video
Lifetime Access
1,855
Pros Own This Course
47

Reviews
Includes the following 5 looks:
Innovative Cutting
Now is the time to stop playing it safe or relying on the same cutting techniques over and over. Innovative Cutting breaks you out of your comfort zone and will reignite your passion for hairdressing. This course, which can be taken as a look-and-learn or as your own hands-on workshop, offers three salon-friendly cuts that will help you look at your craft in a whole new way.
You Will Learn:
Carved Long Layers:A seamless and artful approach to dry-cutting long hair with scissors.
Modern Mid-Length Shag:Explore freehand cutting combined with clever disconnections and razor detailing for a distinctive update.
Multi-Textured Short Shape:A razor-cropped undercut that can be paired with a series of versatile tops using the scissor or razor, allowing for many styling options.
All cuts can be adapted to different textures and personalized for individual client suitability.
Instructor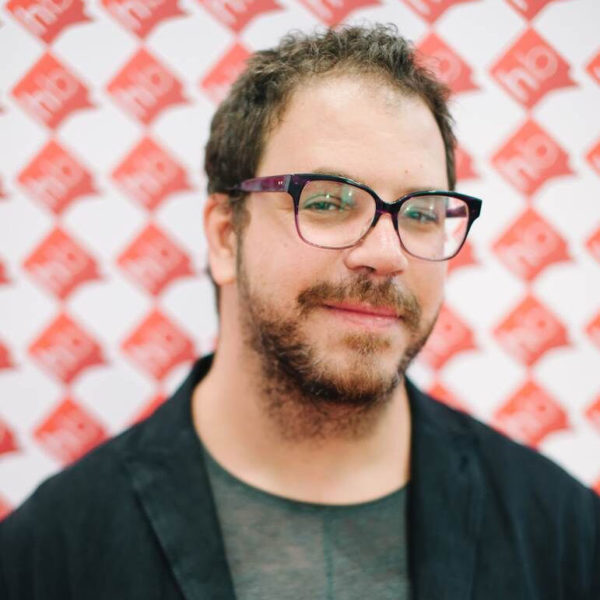 Gerard Scarpaci

View All Courses
Gerard Scarpaci is a veteran craft hairdresser with nearly three decades of experience in the salon, in classrooms and on stages around the world. One of the industry's most respected educators, Gerard cofounded Hairbrained.me, a global community of #crafthairdressers and colorists with over 1.5 million members, fans and followers worldwide.
Since Hairbrained's launch in 2008, Team Hb has launched the Hairbrained.pro Shop, produced the now iconic "Hb Teach-In" master jam events, introduced the inspiring Hairbrained Video Awards and created HbLive.me, a revolution in online craft hairdressing education.
Gerard currently divides his time between engaging with the Hairbrained community, sharing his passion for the craft by continuing to teach every chance he gets, and collaborating with the Hb team and its partners to continue to elevate the craft.
47 Reviews for Innovative Cutting
"WOW Absolutely love this course! I highly recommend this course to everyone who's trying to master this craft!"
— MARK K.
"The best investment you can make for yourself. I have spent so much money and classes that left me disappointed and taken advantage of. These techniques have helped me become a better stylist/barber, gain more clients and earn the respect of seasoned stylist."
— ALICIA F.
"Love the long hair cut as well as the shag! Gerard esthetic is effortless hair backed with so much technical knowledge which I love love love!!!!"
— KATIE E.
"Great class. I really enjoyed watching it live. Great to hear other hairdressers asking questions you may also have."
— SCOTT-JEFFREY M.
"I've taken quite a few of the HB courses and keep coming back for more. The quality of production alone, the up-close camera angles that you can actually see, the fresh and extensive content and I love the student interaction in the videos, because we all make the same mistakes. Thank you HB team and can't wait for more."
— DAWN S.
"Very easy to follow, clear and precise direction. The whys of doing - explaining what the purpose of a certain technique. Excellent value too!! Thanks so much j"
— JASON M.
"Learned so much of simple things I took for granted when holding the hair. Very thorough and easy to follow."
— WHITNEY M.
"I'm a l-o-n-g time learner and really enjoyed this course. I love filling my think tank with new ideas and techniques and this one hit the mark."
— JAN C.
"Excellent cutting course! I'm an educator with a well known product company and after taking this course I used this haircut in one of my classes. They were blown away with the end result."
— FREDERICK I.
"I love the simplicity of the cuts!! I've never paid for an in depth video class but I feel like I was able to learn and Gerard takes his time to explain everything that makes sense for at home viewing. I've been able to utilize the cuts behind the chair and the techniques are extremely helpful!"
— ASHTYN C.
"Thorough course, very well made, and share great techniques. I love that I can rewatch forever and so happy I have an opportunity to learn on my own terms! Thank you HB for making high quality education available for us!!! Definitely rec'd."
— NICOLE R.
"Great info that can be taken to the salon chair. Each look broken down has helped me create multiple looks for my clients that work with their headshape and personality. Love online classes to go back and reference."
— KAY B.
"great info ,solid production and clearly presented.terrific resource for any professional hairdresser!"
— IRA L.
"Absolutely loved this course! I used these cutting techniques everyday I'm in the salon"
— JORDAN S.
"I will always take an opportunity to watch Gerard cut. He educates with a passion and you can feel it. I love that I can tune in anytime I want and watch it over and over on any device. All these classes are excellent! And a great value…"
— ILENE W.
"I found this course to be very very useful and inspiring and confidence building to try a few different techniques and they really translated beautifully into the salon, has really helped me lift my game and freshen everything up thank you thank you thank you"
— BELINDA M.
"Gerard is simply the best! He makes hair cutting easy to learn. I felt very inspired after watching this class."
— VICTORIA C.
"There are so many fantastic ideas that you can use immediately when you are behind the chair. These cuts are beautiful and relevant to our current industry needs."
— LISA F.
"Awesome material from the beginning to the end."
— APRIL W.
"Awesome training for fine tuning skills."
— APRIL W.
"Fantastic demos! Such valuable information. Will be downloading more videos. Thank you :-)"
— ANNA G.
"Thank you!!!"
— MADALYN M.
"I have so appreciated this form of education! I've been in the industry also for 30+ years and this HB Live Academy is brilliant. In the past I would invest and attend a class and then it was over. With HB Live whatever I invest in I have the ability to archive and watch it again and again...rewind! So happy with the classes. Thank you Gerard and Hair Brained Team."
— KENYA H.
"Wow! This was so exciting! I can't wait for the razor class. One suggestion for all of the classes is if we can view the head sheets with out having to find it in the videos. They are a great review tool when practicing in the salon and can't find what your looking for easily. Thank you again! I have purchased yours, Julian's and Lupe's classes and have gotten so much from them all."
— ABRA B.
"Pretty good, liked the tips while he was walking the students thru their cuts, awesome to have the pdf!"
— STEVEN D.
"Best videos ever. Thank u all for doing this for us. You are really good. All of you."
— KATHLEEN S.
"You had me at the intro;) Amazing material overall!"
— LISA A.
"Thank you ever so much for creating this format. Look forward to more classes. I 'm an educator at my salon and have encouraged new talent to sign up for these classes ."
— CAROL T.
"I love this course!!! ❤️"
— MELODY G.
"Just perfect, great explanations, awesome in class atmosphere and highly motivating. Looking forward for next episode. I am blown away big applause ✌️✌️✌️"
— DANIEL B.
"Very happy with the material also included on the classes . Pretty good explanations and details in the class. It's like going to a real workshop! Looking forward to purchase the next one ."
— LETICIA S.
"Really enjoyed his relaxed style of teaching💚. Luv the haircuts as I'm a big razor cutter. So exactly my style. 😘"
— SHARON C.
"It is always inspiring to watch Gerard teach! He is humble, respectful to his students and very patient. HB Live is incredible....I feel like I'm physically there in the class. These are the best tutorials I've watched. Cheer HB!"
— STEVEN M.
"WOW!!! Completely blown away by the simple but very innovative hair cut and technique. I have already thrown in bit and pieces into my haircut this week!!! Great work and thank you!!!"
— ANGEL T.
"I've never been to a workshop in my pyjamas before! I am loving the videos! Thank you Hairbrained x"
— BECK K.
"Fantastic. Love your teaching style. Always learning something more is my motto, and thank you for filling up my cup again. #39yrsin #happydance #onetwothree"
— JAN C.
"Love this! Awesome how it is all set up, I feel like I'm there in person! would love to see a fundamentals in cutting course offered at some point!"
— DAVID P.
"Excellent educational video. I am looking forward to the future classes! Thank You Gerard and HB ."
— CINDY R.
"Thos is the coolest mid-length modern shag education I have seen on how to get that stronger, but broken , slightly curtain fringe incorporated in to the flow of the cut, where it doesn't end up "mullet'y." I also find with other approaches to this cut, it can look too much like the rounded layered "Rachel" from the 90's. This has a full rock n roll 70's vibe, but with a much more lived in , organic, "cool girl" vibe. LOVE it! Thank you, so much and BRAVO! Worth every penny of my continuing education budget."
— LINDA T.
"Loved every minute. So thankful for this online live session with no travel required! I loved being able to chat as if I was right there in class. Detailed instruction was so helpful for newer hairdressers like myself. I was really able to let my creativity run wild. Thanks HB and Gerard for a wonderful day of education! Looking forward to taking more classes :)"
— KRISTA V.
"Super seminar. One criticism to myself-I do not understand English. It's a challenge. I look forward to the next one. Thank you"
— IVETA M.
"Great education, and high quality production. I would like to see even tighter closeups, but that is my only criticism. This course is really going to open me up as an artist."
— LINDA T.
"Very happy with my video. Thank you for making this intense technical video for further use. blessings"
— NANETTE N.
"Great Job HB Team.. I enjoyed the experience of being in a small class setting. The close up camera work made me feel like I was actually there, hovering over Gerard's shoulder. Most of all I like that I can re-watch these classes any time I want!! I have attended many hands on sessions and after a couple days, I forget some technical stuff... So Glad I can NOW re-watch these class, Chock-Full-of-Information. Thank You Gerard and the participants."
— MICHAEL N.
"Awesome training have learned new terms and techniques . I love the lock and load term. Can't wait to use it 😁 I am so thankful that I made the decision to spend the money on the class because it is worth it."
— BERNICE C.
"I am through watching the first 2 haircuts and am astounded by the quality of this course. The camera angles and closeups are spot on! Great advice sprinkled throughout about hand angle, scissor angles, razor cutting tips! Can't wait for more education from this team. It beats the pants off any other online education I have ever taken!!! Can't wait for the eventual razor cutting classes!"
— CHRIS R.
"Loving this. Material is facilitated to perfection."
— STEVEN S.