Precision Cutting: Bobs
USD $29.95
Precision Cutting: Bobs Includes:
5
Hours
,

57

Minutes of Video
Lifetime Access
19

Reviews
Precision Cutting: Bobs
Learn the cuts that started the "Revolution" – and went on to become the foundation of success for countless hairdressers as well as some of the industry's most respected educators.
During this dynamic workshop, we will explore thought provoking approaches while providing clear, precise instruction -including variations of the bob that will allow you to execute this timeless look consistently on any texture and length. You will learn:
One-length Bob: How to achieve the perfect cut while understanding the techniques that will help you control hairlines, work effectively with density and growth patterns while cutting a clean line.
Graduated Bob: Learn the sectioning patterns, elevations, and cutting angles that will allow you to add fullness while maintaining the outline to create modern, timeless looks.
Bob with Layers: Explore how to create movement and texture while learning the effect it will have on different textures of hair. Learn how to create a lean and full look by removing weight.
This workshop is designed so you can take it as (1) a look and learn or (2) as your own hands-on workshop, practicing all 3 cuts successively on the same mannequin.
All cuts can be adapted to different textures and personalized for individual client suitability.
Instructor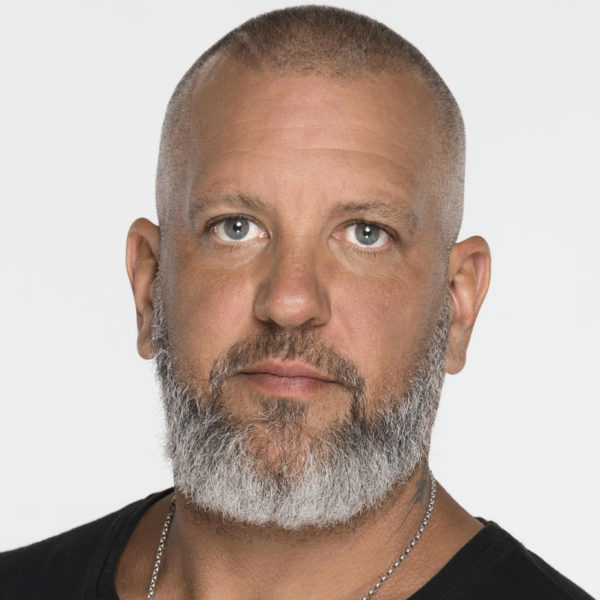 Julian Perlingiero
Julian joined the revered Vidal Sassoon organization as an apprentice in 1990. He went on to become a successful stylist before being promoted to the position of full-time educator at the world-renowned Sassoon Academy. He quickly became a Creative Director and was an integral part of reinventing the geometric cutting system that so many hairdressers rely on today.
With experience as a precision haircutter and stylist, educator, platform artist, creative director, academy principal and salon owner, Julian founded GoldPigEdu training with the goal of sharing his experience, knowledge, and insights around the world.
Required Tools
Pivot Point Erika Mannequin
6 duckbill clips
1 classic cutting comb
Water bottle
Scissors 6" or less
Denman/Vess brush
Flat iron
Blow dryer
19 Reviews for Precision Cutting: Bobs
"Great course- very detailed and goes at a good pace"
— AMY F.
"Amazing hes so detailed I loved that hes so passionate about the education. You actually learn why you're using the method he suggest."
— PAOLA V.
"Honestly I didn't know what to expect when I purchased this course and I absolutely love it! There's so much information packed into it. Everything from body posture to scissor control. He doesn't just tell you what to do but explains the methods behind the movements and why we take this or that approach to achieve a certain desired look. This course has taught me how much the details really DO matter! Would definitely recommend!"
— CRYSTAL M.
"I've been working in an upscale salon for 8 years now, and even after the first video I've already learned so much!"
— JEREMY K.
"This series breaks down precision cutting and has really helped me find fine my eye for the details that separate a good haircut from a great one. I love that he also discusses body position and hand position which are detrimental in creating a great haircut but often overlooked details in haircutting theory. Thanks for the education Hairbrained!"
— AMANDA J.
"Perfect online Education - you feel you are in the room and part of the class. Highly recommendation"
— DANIEL B.
"Very good course enjoy it"
— ZHI W.
"Amazing educator!!!!"
— BRANIMIR M.
"Wow ... just started the course and already have taken away so much!! Thank you for great online education."
— LISA S.
"Natural born teacher Thank you Your love of the hair business shows I have spent hundreds I loved you class."
— VICTORIA M.
"To everyone who has made these educational videos possible, thank you times a million! I live in a tiny town on the big island of Hawaii and I would have to pay for a plane and a hotel room to take courses for our industry. This is an incredible service. The work being done in these videos is exactly what I need. I can not imagine having a camera following me around the salon for a day while having to explain every cut I make; you all do it gracefully. Again, thank you."
— KADY F.
"Full of information and technique! Can't wait to do more. Loved all 3 classes but the layered is my favorite! Thank you Julian and students."
— ABRA B.
"You just can't beat great education at a great price. Julian made it very easy to follow along, and I'm ready to hit the salon today and put some of the tricks I learned into action! It was also nice learning that while I may not be a proficient cutter naturally, I can spend the time honing this craft to really set myself apart in the industry. I can't wait to get the other classes!"
— LAUREN F.
"I will take anything Julian does !! He is AMAZING, has such a thorough knowledge and keeps it simple and very doable, I've already used some of what I learned in the Salon! I will take any any any courses genders, he is my new favorite super star hair guru! This one class was worth buying the other two to get this vital info, I can't believe I've been doing hair for as long as I have wothout having the knowledge I just acquired from his class, obsessed, has made my entire career bettter, I'm sure!"
— STEVEN D.
"excellent, julian great teacher learnt loads and worth the cost , would happily watch more perhaps with longer hair and more varied of textures, also would love to see a class on working with difficult hair, growth patters etc cheers guys from edinburgh scotland x"
— AUSTIN S.
"Julian is an amazing instructor, always has been. I learned new things this time and it was a blast. He's very through, pays attention to his students, and there's always tips and tricks that make what you're doing correct, precise and slightly easier to accomplish. He's a RAD educator!! Rachel R"
— RACHEL R.
"Had time this morning to watch the precision cutting recording. informative, technical and so much appreciated."
— KIM F.
"Loved the class and love this format!"
— LORIE K.
"Great educator."
— MARIBEL M.