Strategic Foiling
Foolproof Foiling Placements
Strategic Foiling Includes:
1
Hour
,

58

Minutes of Video
Lifetime Access
1,049
Pros Own This Course
24

Reviews
Strategic Foiling
Foolproof Foiling Placements
In this course, Cassandra McGlaughlin (@cassandraplatinum) reveals her color placement philosophy and her modern approach to hair color. You will learn three efficient and easy foiling techniques: The 360°, The 22 and The Bricklay. The course is designed as a hands-on workshop so you can follow along with your own mannequin.
You Will Learn:
To create a perfectly blended hairline that can be parted anywhere
How to work with minimal foils to create maximum impact
Blending to create dimension in highlight retouches
How to design a full highlight with 30% fewer foils
Lesson 1: The 360° and The 22: Strategic depth with a hairline that pops
How to create a light and bright hairline
Combine techniques for a balayage-like result
When to slice, weave and tease when working with a haircut
Lesson 2: The Bricklay: Maximum blonding with 50% fewer foils
How to place foils in line with the head shape
When to slice and when to weave
The difference between diagonal and horizontal placements
Instructor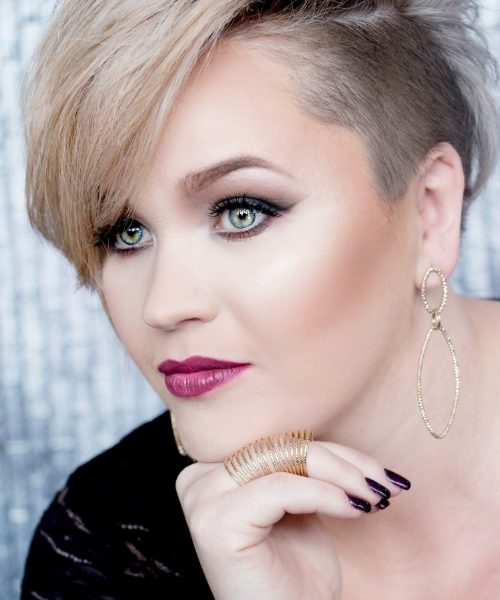 Cassandra McGlaughlin

View All Courses
Cassandra McGlaughlin (@cassandraplatinum) is an award-winning correction specialist who has mastered the art of the transformation. She brings together technical skill, in-depth color theory and artistic color placement to create a modern take on classic hair.
While her knowledge is in depth, Cassandra keeps her approaches to hair color and salon business simple. Her passion for keeping techniques deeply rooted in salon reality combined with her skills as an educator have made one of the most requested color educators in the U.S.
24 Reviews for Strategic Foiling
"A few things about this lesson that make me a bit cautious to try her methods. 1) It seems the way she does her foils, the colour starts sometimes one inch off the scalp. 2) She seems to be stretching her sections so that there is a lot of drag at the sides of the foils. Also the videography of this lesson is not great. We couldn't see the exact bricklay sectioning which was disappointing. And not showing the end result? That was odd to me."
— BRONWEN M.
"Thank you, Cassandra, can't 'wait to try this, will download the JPG to have something to fall back on. It's great to know that this is not just for beginner. Thank. you for your time"
— SANDRA F.
"I do a lot of blonding and I tend to over foil so I was super excited to watch these classes. The techniques make a lot of sense, however, I grew a little frustrated watching the videos because there were many times I couldn't really see where she was working and the diagrams posted seem off...maybe it was just a bad angle? But then at the end I feel like they didn't even really dissect through the finished results…I still think it was a good class with great info, I'm just going to have to order a mannequin head to play around with implementing it a home first"
— ALLISON L.
"Kudos to Gerard, Hairbrained, and a big thank you to Cassandra for the great classes. Aloha from Hawaii."
— ISAYAS M.
"Excellent!My client absolutely loved her hilight!Thank you!"
— MICHELE L.
"Thank you for the new techniques! I also appreciate that the teacher isn't bombarded with questions while trying to show the technique!!"
— KRISTIN L.
"Sorry to have leave a less than stellar review. I'm glad I purchased at Intro price, had I played $59 I'd be very upset! This did not live up to the Title or my expectations. I love the "22" portion of this video and am using it heck out of it, with loads of tweaks for endless possibilities. The "360", that's another matter. I used the entire technique, exactly as presented, on a mannequin with lack luster results. The 360 technique was too chunky, the multiple folds left dark bands (mannequins are unforgiving) but there was No way to "fold loosely" in order to avoid product pushing away from areas. I'm also at a loss for why I'd want to create an uber blond band around I guests hairline only to fill in the interior with a subtle/natural blond effect! I don't like the 360 approach to face framing. I found an Instagram video- for FREE that was way easier and efficient for this. I also agree with earlier comments that sections of the techniques weren't presented well in a visual sense. Portions dragged on endlessly belabouring certain aspects and other techniques were rushed through with very little detail for us, the paying customer, to view. This makes me sad. I've been a part of Hairbrained since 2008, and I've come to view it as the Best of the Best for quality information, educators and innovation. This was a let down, especially as my First purchase, but for only spending $20. I feel like this should fall into a "free education" category. It makes me wary of purchasing again, will I be dissappointded the next time?"
— LYNDA S.
"I enjoyed watching, the oy thing I would have liked to see is Cassandra moving the hair around in different directions during the finished result. She kept talking so much about how the 360 & 22 sectioning was great for parting the hair in any direction, but all we see is the final result in one, deep side parted section. I did actually try this technique on a client yesterday, came out fine , except for my client had lots of little "baby hairs" around the "corners " of her hairline which still looked darker of course because I didn't foil them. Any advice for baby hairs at the hairline? Thank you!"
— CHRISTINA C.
"I wish that she would have done more than just two techniques. The video spent a lot of time watching her brush bleach all the way down the hair shaft of each foil, section after section. Maybe should have done just a half of a head. And than moved on to other foiling techniques. On the flip side. Great teaching video. Always can learn something and pick up little tricks of the trade. Thank you for the education."
— WENDY W.
"Overall, I think it was a good video. I wish that I could have seen where she was in reference to the face when doing the top section. All I see is hair and I have no idea where it was in reference to the client's face."
— ERIN R.
"Thank you so much for this class.. I loved it! Already used it and its great! Please post brick final look. Thank you!"
— LANA O.
"I am confused with the top section for brick placement. Picture is different than Cassandra presentation. Hard to see how she really section that top part of the head."
— MAGDALENA D.
"Loved the techniques however I gave this a 3 star because I showed this to my class and guess I should have watched the whole thing because I was very shocked and disappointed that we didn't get to see the finished result! I did see in the comments that it was an error, do you know when we will be able to get the finished look?"
— KAREN B.
"I am so sorry to leave another message about the brick layer pattern this will be the last message as i was watching this video again i just had to voice my opinion which i forgot to mention earlier i wish there was a way to edit my comments i would have just added to my previous comments so i did not have to add so many more on this page but i feel that when she was showing the pattern of foiling on the very top portion of the head she should have tilted the mannequin head slightly back so we could have had a better perspective of what she was doing on the top of the head i am still so confused and to be honest as much as i love the technique showed here i am not comfortable trying to attempt this on a client at least the top portion because i am not sure what to do it was hard to see here for what it is worth in all my comments here and a few others i feel that this video should be done again or at least the areas that are mentioned here with a better knowledge of viewing before performing this on a client and i do hope you will add what you left out the final result!!!"
— RICHARD E.
"Thanks for lettings us know, we will have Cassandra check her diagrams, and we are working on getting the final looks added to the lessons, we will email all who took the courses when this is fixed."
— HBLIVE .
"In the picture it is just horizontal in the side all the way"
— NELLY H.
"Thank you it was very informative and full of useful tips and tricks , just The directions in the Photo of the bricklay in downloads for sides is not the way Cassandra showing in the video ( it starts with vertical sections and pivots towards up to a horizontal section and I really wanted to see the end result for bricklay in second video and the back head of the manikin in 360-22 at the end of the first video ."
— NELLY H.
"Photo of the bricklay! And would have been nice to see the back of the head finished of the 360, 22 maybe post a photo of the finished bricklay on Facebook for all of us to see"
— KAREN K.
"Photo of the bricklay! And would have been nice to see the back of the head finished of the 360, 22"
— KAREN K.
"I also would like to mention on my previous comment that the end result of the bricklay lesson two did not even show the final result that was mentioned in the video just another disappointment"
— RICHARD E.
"I just want to explain why i only gave this educational video three stars i was excited to get educated on how to do a full highlight with less foils and less time spent which she did show here and i love the method she used but the issue i have is i feel that i spent good money here and between the first and second video when the other side of the head is showed they speed up the video and the video is not exactly facing the area so i couldn't grasp and see the other front side of the head it should be slowed down not rushed i could watch a video on youtube with this kind of quality also as she was done with the back and started to explain what she is doing as she is going to the top of the head that load music is playing and you cannot even hear what she is saying i am just giving some feedback on how poor this video was done in that respect but i do love her training methods and i am excited to try them and hope that they will perfect on future videos"
— RICHARD E.
"How do I save this info to share with my team"
— DENA R.
"I love the technique and looking forward to trying it and sharing it with my staff. would like to have seen the end result!"
— LULU B.
"This is great thank you"
— BEHROUZ M.