Full Glam
USD $29.95
This full highlight placement is  the perfect road map to achieve big changes quickly and with a perfect blend.
Full Glam Includes:
1
Hour
,

41

Minutes of Video
Lifetime Access
33

Reviews
Full Glam
This full highlight placement is  the perfect road map to achieve big changes quickly and with a perfect blend. 
Tabitha Dueñas shares her insight on sectioning and placement to achieve a gradient blend. Full Glam is an efficient way to go a lot lighter with a single session. Perfect for a client who wants the illusion of a lighter base but doesn't want to see warmth.
Course length: 100 minutes
-Create maximum impact with each foil.
-Learn where to place slices and/or weaves
-How to play with brightness around the face
-Use pivoting sections to translate into focal points
-Understand the effect angles have on foil placement 
Instructor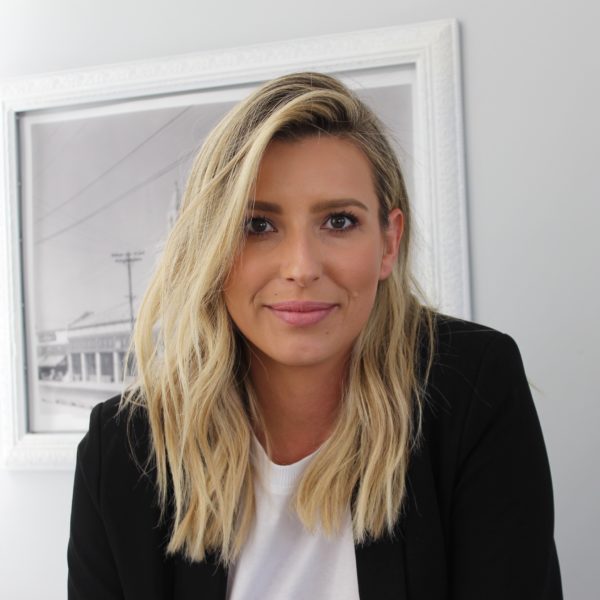 Tabitha Duenas
Tabitha Dueñas (@hairbytabitha) has been practicing hair since 2003, and during a Bumble & bumble training in NYC, a love for the city and education was born. She and husband Tim moved to New York and worked together at ARROJO Studio, and there they began a new apprentice program. In 2015 they moved back to Los Angeles and began working at Nine Zero One Salon in West Hollywood. Tabitha continued honing her skills as an educator at 901 Academy, teaching over 100 classes and developing multiple techniques. Today Tabitha and her husband have begun a new chapter as salon owners in West Hollywood, California, and continue to share all they have learned through collaborations and on their own platform www.essentialhairacademy.com.
33 Reviews for Full Glam
"Awesome class!"
— ASHLI A.
"Love this :) Great to learn some new techniques. Being in this business for 30 years I have always been open to learning new things because this business is forever changing"
— KRISTA T.
"As a new Stylist, this was super helpful! I could watch it again and gain more tidbits. I'm looking forward to trying this out."
— BURGUNDY H.
"Love it!! I can't wait to try this technique. Thank you so much Tabitha for your great tips❤️"
— ALEJANDRA S.
"Tabitha's classes are amazing. The techniques are great and she explains things really well. Excited to try this technique!!"
— WILLIAM V.
"I really appreciate Tabitha's thoroughness in explanation! The camera angle is awesome . Really can't wait to execute this color placement! I highly recommend purchasing this class if you have any hesitation"
— GAIL L.
"Coming from 40 yrs experience and lots of in person / online classes all I can say is ....Wow! Great class! Tabitha is a great educator! The camera work is spot on too,"
— DEBRA F.
"One of the best classes I've taken, everything makes sense, and I feel like she does not hold anything back. A true educational experience!"
— CHERYL M.
"Tabitha , my favourite !!!! I'm glad quarantine at least had something great and useful for me and that is knowing this skilful stylist and educator . She explains everything so gracefuly, detailed and patiently that makes me enjoy my learning time with her . As always a beautiful, practical technique from her . So thankful HB live provided this class with Tabitha !"
— NINA T.
"My level 4 with previous color friend decided to go blonde since she felt blah. This technique got her the perfect blonde with the perfect blend at the base so she wont feel like her roots are horrible in a month"
— DEBORAH M.
"Tab this class is amazing and exactly what I need for the color correction I have been texting you about! I consulted with Lupe as well as far as formulation for the ends with that demi! I will send you pics once I am done! Thanks G as well! I am so thankful for you!"
— RONNY C.
"This class was awesome! So much valuable information. Great technique, I already used it on my coworker and we loved the results. Definitely something I will be using on the reg. So happy to be learning new things still after 14 years, and especially right now when in-person classes are not an option. Can't wait to do another! Thanks ya'll!"
— SAMANTHA A.
"Very practical and time-friendly technique. 10/10 would recommend Tabitha's class; I will definitely be taking more of them. Thank you and great job!"
— BRECQUE J.
"Amazing as always! I've been hooked on her style since quarantine academy! Love her and Tim."
— DEBBIE R.
"I've taken a couple years worth of classes from a fellow online education platform and find myself migrating to hblive academy as my go to! I find the production to be better quality and more efficient. As a stylist who has specialized in cutting for many years, it was nice to have an educator who moved at a pace that was super easy to grasp. Also, to get a complete course where I was able to see a finished product without having to jump through hoops. Thank you hbLIVE academy, and a special thanks to you Tabitha! I will be following on IG and look forward to more classes!! 🤓😊"
— KIM A.
"SUPER HELPFUL! I have a client coming in soon that this would be perfect for! 🙌🏽"
— CASEY W.
"This video made my brain explode and I love it. So many knowledge bombs"
— ISABELLE M.
"5 Stars all the way, Tabitha! Even after nearly 40 years in the industry, I found so many valuable insights and trade secrets to color placement, overdirection and what it provides, proper teasing and how to properly comb it out. I will NEVER forget, "Spread the Dread". Perfect. You're born to educate. Your clients are very lucky to have you, too."
— STEVEN B.
"Fantastic class and lots of information in just one class! Thank you so much and i am looking forward to many more!"
— LUMINITA W.
"Learn knowledge from people who are where you want to be! Thank you Tabitha!"
— ELENA A.
"Awesome class -"
— CATHERINE V.
"Tabitha is an unbelievable educator. She answers questions that arise without being asked. So many "a-ha!" moments and genius placements. I would quit my job behind the chair to assist her because she is so on top of her game, and if you learn this much from an online mannequin course, I can't even imagine what a day in the salon would be like. I was hooked during quarantine academy, and jump at the chance to further learn from her. 10000/10."
— DANIELLE L.
"Tabitha never disappoints. Awesome class!"
— ADRIA R.
"Tabitha is one of the best educators I learn from. Everyone needs to watch. She is super neat, professional, and she educates with purpose, always has a road map. I love how she shares her technique's but also encourages to add your own artistry. I always learn so much each video. Thanks XO"
— AMANDA V.
"The foil placement theory in Tabitha's classes is worth it alone. She is a top educator in the color world and will always inspire creativity when paired in discussion with Gerard. This one is a must see. I can't wait to try the placement."
— KEELY C.
"So so good! Will definitely be using this placement a ton in the future!"
— JOSHUA L.
"Have been to a lot of Aveda classes and many more on varies online sites buy far this is the best for foil placement and ease of use amazing ."
— SHAWN H.
"Second class i take from her NEVER DISSAPOINTS! Great tips great technique a must watch!"
— RAYMOND C.
"This is the 2nd class I've taken with Tabitha. I love her teaching style and can't wait to use her techniques in the salon. Great class!"
— THUY H.
"What a great class!! I can see where I will use this a lot!!"
— GARY H.
"A great, insightful lesson. Thank you."
— REN S.
"In the last 3 months I've taken classes with Johnny Ramirez, Bianca Hiller, Catherine Loves Color, Carly from The Blonde Chronicles, in addition to both of Tabitha's HB classes. All of them were excellent classes but Tabitha is by far the BEST! Her techniques are salon & time friendly. She doesn't hold back on giving you the secret sauce! Every slight change in density, elevation, direction, or saturation she makes sure you got it. It is those small golden nuggets that elevate your color game to rockstar status. Hands down a true educator who backs it up with stunning work!"
— AUDREY H.
"Great class!"
— HEATHER L.